The Essential CSA Kit For Men
Skin is skin. No matter your gender. That's why the secret to younger-looking, radiant skin is the same for all of us: vitamin C followed by Sunscreen by day, vitamin A by night. Begin your journey to a youthful future with The Essential CSA Kit. This kit is perfect for those new to CSA, or those who want the simplest routine for visible results.
With only 2 cream products plus a cleanser, this is the easiest way to get started with our CSA strategy.
Includes:
Daily Radiance Vitamin C™ (SPF 30)
Compare
the-essential-csa-kit-for-men
Expert Knowledge
STRAIGHT FROM THE LAB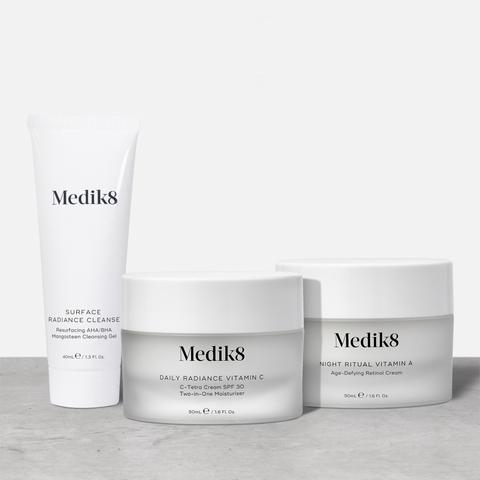 How it works
Surface Radiance Cleanse is infused with both AHA (alpha hydroxy acid) and BHA (beta hydroxy acid) chemical exfoliators, to gently break down impurities and pore blockages across the complexion, deeply cleansing skin while sloughing off dead skin cells on the skin surface. The result? A visibly renewed, purified complexion with a brightened appearance.
Daily Radiance Vitamin C serves as the perfect introduction to Medik8's CSA anti-ageing philosophy. Advanced, modern UV filters shield the complexion from harmful UVA and UVB rays, to protect from the signs of premature skin ageing. Tetrahexyldecyl ascorbate, stabilised vitamin C, acts as an antioxidant to protect the skin from environmental damage. Combined with co-antioxidant vitamin E, hydrating hyaluronic acid and glycerin, Daily Radiance Vitamin C works to protect and moisturise skin, ready for the day ahead.
Night Ritual Vitamin A is formulated with 0.2% retinol, well known as the classic form of vitamin A. When applied to the skin, retinol is converted to retinoic acid, the molecule that instructs skin cells to produce proteins such as collagen and elastin, as well as working to increase the rate of skin cell turnover. This results in a visibly smoother, evenly-toned, youthful looking complexion. Time Release Technology gradually delivers the retinol overnight, gently smoothing the appearance of fine lines and wrinkles. Polymer encapsulation is used to protect the retinol, maintaining its stability and potency over time.
Key ingredients
Exfoliating Acids (Surface Radiance Cleanse) – AHAs l-mandelic acid and l-lactic acid softly exfoliate the skin, while deeply hydrating for a nourished complexion. Mandelic acid, in particular, is able to work on both the surface of the skin and within pores for a thorough yet gentle cleanse. BHA salicylic acid can decongest and exfoliate from within the pore, helping to minimise the appearance of enlarged pores and blemishes.
​​​Tetrahexyldecyl Ascorbate (Daily Radiance Vitamin C) – A lipid-soluble form of vitamin C that provides exceptional antioxidant protection from harmful free radicals, while helping to stimulate collagen production for a youthful-looking complexion.
Superior UV Filters (Daily Radiance Vitamin C) – A complex of sun filters carefully selected for their longevity, gentleness and power to protect the skin against harmful UVA and UVB rays.
​​​0.2% Retinol (Night Ritual Vitamin A) – The classic form of vitamin A, retinol helps to enhance collagen levels and boost the skin's natural regenerative cycle, leaving skin looking even-toned and youthful.