Medik8 For Men CSA Philosophy Kit
Seeking a full-size* kit of our best-selling, medium strength serums to kickstart your CSA regime? This is the collection for you.
This kit is a great way to embark on our anti-ageing philosophy and see visible results. Featuring Surface Radiance Cleanse™, C-Tetra®, Advanced Day Total Protect™ (SPF 30) and Retinol 3TR Intense™, to visibly restore, beautifully revitalise and prepare skin so you can later move to higher strength serums.
*All products are full size except Surface Radiance Cleanse which is travel size.
Featuring:
Out of stock
Compare
medik8-for-men-csa-philosophy-kit
Expert Knowledge
STRAIGHT FROM THE LAB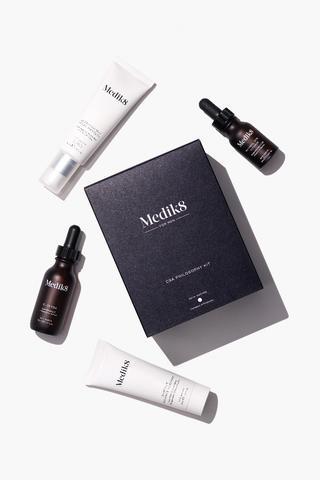 How it works
A dual-action cleanser, Surface Radiance Cleanse uses both AHA and BHA power to gently break down impurities and slough off dead skin. By gently exfoliating the upper layers of the skin, the skin cell renewal cycle is stimulated, leaving a fresher, clearer complexion.
C-Tetra contains tetrahexyldecyl ascorbate, a super-stable form of vitamin C, that boosts the antioxidant defence levels in the skin. Ever the multi-tasker, it also stimulates collagen production to reduce the appearance of fine lines and wrinkles, leaving the complexion plump, radiant and youthful looking.
Advanced Day Total Protect is the ultimate 5 star UVA SPF 30 moisturiser for youthful-looking skin. With 360 degree protection against all routes to premature skin ageing, this is a lightweight, invisible sunscreen for everyday use, even if it's cloudy.
Retinol 3TR Intense is boosted with climbazole, an exceptional ingredient that enhances the power of retinol by blocking the enzyme that breaks down retinoic acid in the skin. This means supercharged power with no extra irritation: a win-win.
Key ingredients
​L-Mandelic Acid – A softly exfoliating AHA with BHA power, chirally correct mandelic acid is able to work both on the surface of the skin and within pores for deep but gentle exfoliation.
​Climbazole – Climbazole has been found to boost the activity of retinoids in the skin to give the power of higher percentages without the irritation.
​Superior UV Filters – A complex of sun filters carefully selected for their longevity, safety and power to protect the skin against harmful UVA and UVB rays.
​Tetrahexyldecyl Ascorbate – A lipid-soluble form of vitamin C that provides exceptional antioxidant protection from harmful free radicals, while stimulating collagen production for a youthful complexion.