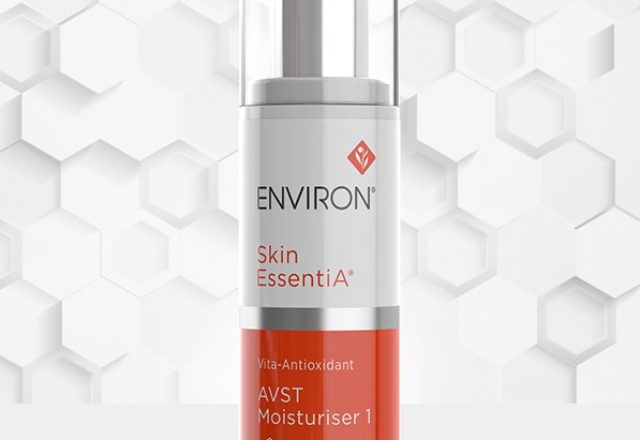 What is so special about Environ AVST?
Environ Skin EssentiA Vita-Antioxidant AVST Moisturiser is like no other moisturiser available on the market. It has a unique 'step-up' system that allows the client's skin to adjust to all the powerful ingredients inside the bottle with no irritation to the skin. Containing Vitamins A, C and E, alongside antioxidants this is the ultimate moisturiser for all skin types, all ages and all concerns.
What ingredients are in AVST and how are they going to help my skin? 
The key ingredient in the Environ AVST moisturiser is Vitamin A, a Retinyl Palmitate; This is a truly amazing ingredient and the list of benefits it has for your skin is extensive. One of the main benefits of using Vitamin A within your skincare is that it slows down the ageing process by protecting against free radicals, which break down collagen, the protein that gives your skin its structure, plumpness and youthful vitality.
Vitamin A in Environ AVST also promotes healthy cell production; that protein collagen, is produced by cells called fibroblasts, a daily application of a Vitamin A product keeps those cells in tip-top working order ensuring they can produce happy, healthy cells, keeping your skin happy and healthy too. Another incredible bonus the Environ AVST has is that Vitamin A reduces the appearance of sun damage, by kick-starting those fibroblasts and collagen cells, signs of premature ageing will slow down, and even become significantly reduced with regular, on-going use* and because of the increase of cell turnover roughened skin becomes smoother, resulting in a smoother, more radiant complexion. Not only does Vitamin A do all those amazing things for your skin, it's also fantastic for sufferers of blemish-prone skin; be it adult or teenage acne, open and blocked pores or excessive oiliness, Environ AVST is here to save the day! The fantastic ability to increase skins cell turnover, has amazing effects on congested skin, by clearing out the pores, reducing blockages leading to spots, blackheads and overproducing oil on the skin.
*A daily SPF must be applied with the use of Environ AVST or any other retinol-based product.
Can I use other products to boost AVST results? 
No matter what you want to use Environ AVST to enhance your skin, there are ways to BOOST the incredible abilities of this wonder product; for thirsty, dry, dehydrated skin there is Environ Focus Care Moisture+ Range; containing hyaluronic acid, a natural humectant in your skin. It's the ultimate drink of water for your skin. If sun damage or lacklustre skin is what you'd like to improve, Environ Focus Care Radiance+ is for you, encapsulating another power ingredient; Vitamin C. Reducing premature ageing caused by sun exposure, and bringing the glow back into your skin, Vitamin A and C are perfect partners! Breakouts, blemishes and "blergh" skin? The newly reformulated Environ Focus Care Clarity+ is a game-changer. Containing a whole host of spot-busting ingredients, including salicylic acid, which works deep within each pore to clear it of excess oil and dirt.
Where can I get it? 
The entire Environ AVST range, as well as many other products from Environ, are available on our website. We offer free one to one skin consultations with trained professionals who specialise in Environ products and treatments.
Price? 
Environ Skin EssentiA Vita-Peptide AVST Moisturiser is priced at £48-55