The CSA Kit Bakuchiol Edition
Begin your journey to Beautiful Skin For Life with The CSA Kit Bakuchiol Edition.
The perfect CSA-alternative for those that cannot use retinol.
Includes:
Bakuchiol Peptides™
Out of stock
Compare
the-csa-kit-bakuchiol-edition
Expert Knowledge
STRAIGHT FROM THE LAB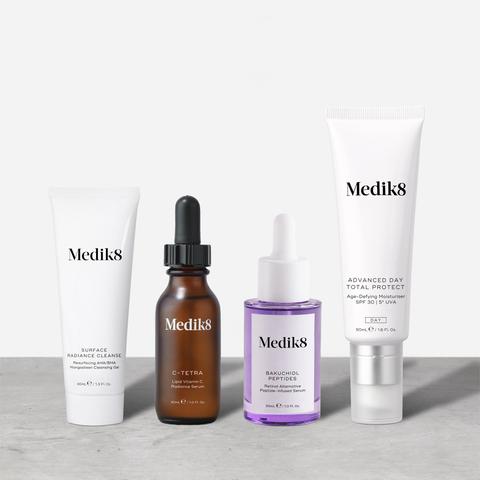 How it works
Surface Radiance Cleanse is infused with both AHA (alpha hydroxy acid) and BHA (beta-hydroxy acid) chemical exfoliators, to gently break down impurities and pore blockages across the complexion, deeply cleansing skin while sloughing off dead skin cells on the skin surface. The result? A visibly renewed, purified complexion with a brightened appearance.
C-Tetra is carefully crafted with tetrahexyldecyl ascorbate, a stabilised, gentle yet effective form of vitamin C. It works in synergy with vitamin E to boost the antioxidant defence levels in the skin, to protect from free radical attack during the day and promote a more radiant appearance. A multi-tasker, C-Tetra can also help to stimulate collagen production to reduce the appearance of fine lines and wrinkles.
Bakuchiol Peptides features 1.25% pure bakuchiol, a clinically proven alternative to retinol. While molecularly it has no structural resemblance to retinoids, a pivotal study by the British Journal of Dermatology has found that bakuchiol is comparable to retinol in anti-ageing effects, and is better tolerated than retinol. Combined with brightening peptide precursors and centella asiatica, the lightweight oil-based serum leaves skin visibly brighter and soothed, perfect for sensitive skin.
Advanced Day Total Protect is a lightweight, 5* UVA SPF 30 moisturiser. With 360 degree environmental protection and modern, advanced sunscreen filters, the invisible sunscreen works to shield skin against premature ageing caused by the sun and all aspects of the environment. Including a pollution shield, anti-infrared, anti-blue light and anti-A.G.E. technology, all combined in one hydrating daily cream.
*Of course, due to ethical considerations the Bakuchiol Peptides formula has not been tested on pregnant women, but there is nothing in the formula which is known to be an issue (eg vitamin A or high levels of exfoliating acids). If you are at all concerned, always consult your doctor.
Key ingredients
Exfoliating Acids (Surface Radiance Cleanse) – AHAs l-mandelic acid and l-lactic acid softly exfoliate the skin, while deeply hydrating for a nourished complexion. Mandelic acid, in particular, is able to work on both the surface of the skin and within pores for a thorough yet gentle cleanse. BHA salicylic acid can decongest and exfoliate from within the pore, helping to minimise the appearance of enlarged pores and blemishes.
​​​ Tetrahexyldecyl Ascorbate (C-Tetra) – A lipid-soluble form of vitamin C that provides exceptional antioxidant protection from harmful free radicals, while helping to stimulate collagen production for a youthful-looking complexion.
1.25% Pure Bakuchiol (Bakuchiol Peptides) – A clinically proven alternative to retinol, bakuchiol helps to stimulate collagen and elastin production, smoothing the appearance of fine lines and wrinkles. Incredibly gentle, it is suitable for those that cannot usually tolerate vitamin A.
Superior UV Filters (Advanced Day Total Protect) – A complex of sun filters carefully selected for their longevity, gentleness and power to protect the skin against harmful UVA and UVB rays.